Patented in Japan, U.S.A., other

| | |
| --- | --- |
| Bore | 50-100mm |
| Total head | 10-20m |
| Capacity | 0.2-2m3/min |

Unique defoaming equipment capable of continuous suction, defoaming and transfer of liquid containing gas bubbles.

It is often the case that gas bubbles are generated in the processing of liquids such as liquid foods, beverages and chemicals, and the bubbles cause the following difficulties:

| | |
| --- | --- |
| | Measurement of liquid quantity becomes inaccurate, and flow rate control becomes difficult. |
| | Troublesome and costly removal of overflowing bubbles. |
| | Bubbles cause difficulty in sending liquid to the next process. |
| | Bubbles overflow during packaging, causing deterioration in packaging efficiency. |
These problems have been commonly dealt with by giving time for the bubbles to settle down. However, this creates new problems due to the amount of time required for bubbles to settle down, causing a loss in processing time, and the necessity of installing a large tank for stabilization of liquid, which increases processing costs.

The Defoaming Pump, Defoaming Equipment UPSA type can clearly solve all these problems.
The pump, with an interlocked vacuum pump, produces a stable supply of defoamed liquid by continuously separating and discharging gas bubbles from liquid at surprising efficiency.
This pump (defoaming equipment) defoams liquid mechanically without using any chemical additive. Therefore it is safe, does not cause contamination, and greatly reduces maintenance costs.


Principle of defoaming (PAT.)
| | |
| --- | --- |
| | When pumping liquid containing gas bubbles flows into the inducer, liquid and gas are initially separated by rotation of the inducer. The mist-like gas-liquid mixture accumulates in the central area of the casing. |
| | The gas-liquid mixture is transferred through the main impeller to the separating impeller. The remaining liquid in the mixture is further separated and the gas is drawn out by the vacuum pump. |
| | The liquid separated by the separating impeller returns to the intake of the inducer by centrifugal force. |
| | Minute gas bubbles remaining in the liquid are confined to the central area of the casing by the pressure difference generated by the main impeller and transferred to the separating impeller, by which defoaming efficiency is further enhanced. |
Surprising defoaming efficiency!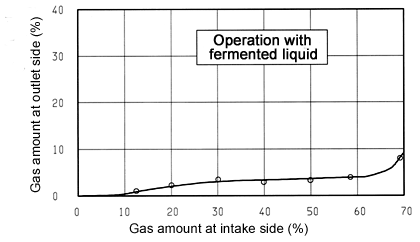 | | |
| --- | --- |
| Overview of operation | Conditions before and after defoaming |
| | |
| | Intake side on the left, and outlet side on the right |
Results show that a high volume of gas bubbles at the intake side are completely eliminated at the outlet side.




Defoaming Pump UPSA type



To view this video, please make sure you have the latest version of ADOBE FLASH PLAYER installed.
Applications
Food industry:

Defoaming of foods and dairy products in processes such as boiling, extraction, mixing, and fermentation

Beverage industry:

Defoaming of milk, beverages, wine, beer, other, in processes such as boiling, extraction, mixing, and fermentation

Chemical industry:

Defoaming of gas-containing liquid, foam latex, foam starch liquid, normal paraffin fermenter liquid, other

Packaging:

Defoaming of liquid foods, beverages, pharmaceuticals, detergents, cosmetics, paints, other, before packaging/bottling (improvement of packaging efficiency by prevention of overflow)

Machine industry:

Defoaming of lubricants, hydraulic oil, cutting oil, other

Others:

Defoaming processes in treatment systems for pulp, waste water, sewage, other

Also highly suitable for applications such as extraction from sealed tanks (vacuum tanks), and suction and transfer of liquid containing large amount of gas bubbles.

Examples of Defoaming of actual liquid, can be found at here. (Pictures are example of Defoaming by ASP type. Please contact us for more information.)

Example applications and installations


Defoaming Equipment for chemical processing

Continuous defoaming/antifoaming can be done easily and at low cost even for food and beverage processing!
YOKOTA defoaming/antifoaming technology is high-profile new technology that has been featured in news articles.
For details of the news article, please refer to "Current Topics: Defoaming, Degassing".

Please contact us for more information.

| | | |
| --- | --- | --- |
| Inquiries | : | Overseas team |
| Tel | : | +81 82-241-8672 |
Moreover, YOKOTA Defoaming Equipment enables remarkable cost reduction in the processing of various foaming liquids.

No clogging problems like that with membrane type equipment, no troublesome maintenance required, and the pumps easily meet sanitary specifications.

Time required to eliminate bubbles has been shortened, making it unnecessary to install a large tank for stabilization of liquid.

The stirring operation of the built-in impeller simultaneously provides favorable results such as liquid homogenization and reduced particle size.

With the self-priming and pressurized discharge capabilities, all processes including suction, stirring, defoaming and transfer of liquid are achieved in this single, compact pump, unlike conventional methods which require installation of several components.

Use of YOKOTA Defoaming Equipment greatly reduces costs of liquid processing.



Equipment suitable for defoaming relatively small amounts of liquid and equipment for defoaming with sanitary specifications are also available.
For details, please refer to Defoaming, Degassing Pump DP, ASP type