Structure & Principle (PAT.)

UFSF-C type (Full range constant flow regulation type)


| | |
| --- | --- |
| 1. | When the float begins to ascend as the liquid level in the float tank rises, the shaft is pushed down, narrowing passage A around the adjustment valve disk. This reduces the flow rate and intermediate pressure Pe begins to drop. |
| 2. | Accordingly, the sliding valve is pushed down by inlet pressure P1 that acts on the top of the diaphragm, thereby narrowing passage B and causing intermediate pressure Pe to be restored to the original pressure. The differential pressure between the front and the rear of the adjustment valve disk is therefore maintained at a constant value and the valve can be opened and closed very easily regardless of the inlet pressure. |
| 3. | As the liquid level continues to rise, the sliding valve is pushed down further, ultimately coming in contact with the shaft step and is integrated with the adjustment valve disk via the shaft, thus causing inlet pressure P1 acting on the bottom of the adjustment valve disk to become balanced with inlet pressure P1 acting on the top of the diaphragm. |
| 4. | As a result, the axial thrust of the valve shaft balances, allowing the valve to be opened and closed very easily and realizing secure water shutoff with a compact float. (The length of the float arm may thus be made short, which reduces installation space and costs). |
| 5. | When the liquid level drops, the valve acts sensitively in response to the movement of the float and begins to supply water. The adjustment valve disk becomes fully open when the liquid level drops further. Since the valve itself has a constant flow regulating mechanism, a stable flow rate is maintained even if the inlet pressure fluctuates. |
| 6. | Water discharge is moderate and quiet due to the effective pressure reducing mechanism with the interaction of the adjustment valve disk and the sliding valve. The float tank can be made significantly compact in comparison to conventional valves, achieving a reduction of construction space and costs. |
Flow rate characteristics
UFSF-C type (Full range constant flow regulation type)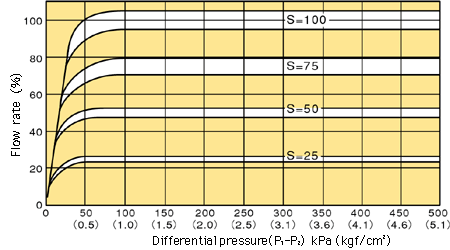 This UFSF-C type valve prevents over-discharge by adjustment of position S (stroke %) of the maximum flow rate adjustment screw, and a stable constant flow rate is maintained across the entire range regardless of the fluctuation of the inlet pressure.
The constant flow regulation is securely maintained even at a low flow rate; thus allowing the minimum necessary flow and preventing wasteful use of water resources.

UFSF-S type (Standard type) does not have the same constant flow regulation mechanism as the UFSF-C type, but it is equipped with the same shaft thrust balancing mechanism, enabling complete water shutoff with a compact float. This UFSF-S type also has a feature that allows maximum supply of water in accordance with the inlet pressure, and desired characteristics may be set by adjusting the position of the maximum flow rate adjustment screw.