"What we need is......Can we do this?"
People who deal with water and other liquids often find themselves in the position of wishing they had better solutions to their water and other liquid needs.

YOKOTA, as a fluid control solutions company, has developed various unique products based on newly patented theory and know-how for solving various problems and meeting our customers' water and liquid handling needs.

Among our pump product line-up are various specialty pumps including self-priming pumps that pump water containing air and slurry, and instant defoaming and degassing pumps.

The various valve products we have developed are simple in structure yet ingenious in functionality; such as the non-water hammer check valves, as well as valves that automatically control water flow rate, pressure and level via water force rather than using electrical control.

Independently developed metallic materials used in our products, such as seawater resistant stainless steel and other corrosion and wear resistant stainless steel alloys, are produced in-house consistently from our casting process so they can handle tough liquids.

Our products are used in a broad range of applications including ultra-pure water production, agricultural irrigation, water processing, seawater processing, chemical liquid processing, and contamination prevention management.

YOKOTA will continue to devote its energies to the development of products as a fluid control solutions company. If you are telling yourself, "What we need is..." do not hesitate to contact us with questions or inquiries.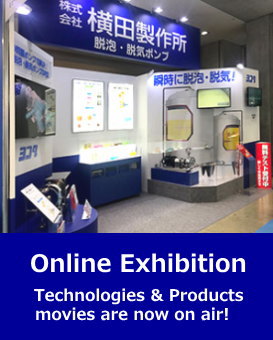 Defoaming/Degassing Pump ASP type