Products that have received attention this year

Quick and continuous defoaming/degassing based on new ideas
"Defoaming/degassing equipment"

Yokota Manufacturing Co., Ltd.
President: Hiroshi Yokota
1-3-6 Minami Yoshijima, Naka-ku, Hiroshima 730-0826, Japan
Tel: 082-241-8675

Yokota defoaming/degassing equipment is attracting attention in the food and beverage industries. Defoaming equipment removes bubbles generated while transferring liquid food and milk, or while packing food products based on Yokota's international patented technologies. Due to the equipment's instant and continuous bubble removal, the production process time can be reduced, boil-over and measurement error prevented, and yield ratio improved. Moreover, based on this technology, degassing equipment which removes dissolved oxygen (oxygen dissolved in liquid) in liquid food and beverages is also available. As a result, this degassing process and degassed water production are possible at each process such as boiling, immersion, extraction, mixing, fermentation, and food product and beverage preservation.

Because this equipment performs the defoaming/degassing process mechanically without using any chemical agents, there are also advantages such as health safety, environment friendliness, and low cost.

Both models meet sanitation specifications. Demonstration equipment is available (rental cost: 100,000 yen and up).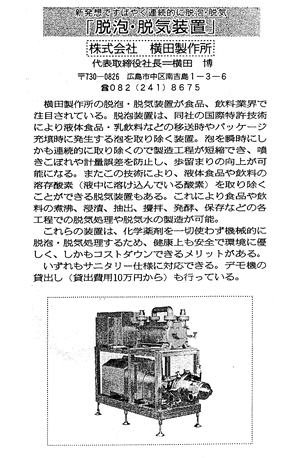 Copyright for this article is with The Nikkan Kogyo Shimbun