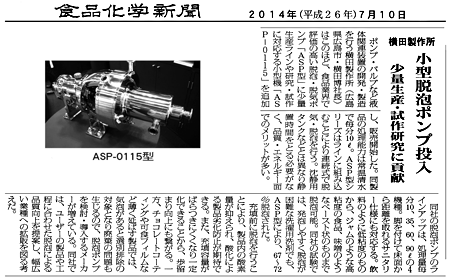 Reprinted from Food Chemicals Newspaper, Jul. 10, 2014 edition


Yokota Manufacturing Co.
Small-size Defoaming pump introduced
Contributes to low volume production, test-production and research

Yokota Manufacturing Co. (Pres. Hiroshi Yokota, Hiroshima-city, Hiroshima pref.), developer and producer of hydraulic equipment such as pumps and valves, has increased its "ASP Type" Defoaming-Degassing pump series which have been highly evaluated by the food industry. The newly added and released version is a small-size "ASP-0115" pump compatible with low-volume production lines, research, and test-production. The newly released pump can process 10 liters of normal water per minute at normal temperature. The ASP type series performs continuous defoaming and degassing by installing it to the lines. Moreover, the series has a lot of merit in terms of quality and energy aspects because the settling time, which is required for liquid stabilization tanks, is not necessary.

Four types of Yokota Defoaming pumps are available and the processing performance of each type is 10, 35, 60, and 90 liters per minute. They also meet sanitation specifications by equipping legs to establish a clearance with the floor. Defoaming of materials with a wide range of viscosity is possible, such as low-viscosity beverages to high-viscosity jam, and even with paste-like material such as bean paste (miso). As a result of their in-company tests, the ASP type pump was able to deform laundry detergent, which foams easily and is difficult to defoam, at a rate of 67 to 72%.

By defoaming material before charging it to containers, the amount of oxygen in the product can be restricted, thus the prevention of product deterioration due to oxidization is expected. This also leads to improvement in yield ratios because variation in the charge amount is reduced and it can be maintained constant. An increasing number of manufacturers are considering and adopting defoaming pumps for thin-layer products such as chocolate coating and edible film because if such products contain bubbles they must be sorted out and rejected causing waste problems. Yokota is planning to extend its business to a wide range of industry by presenting quality improvements using defoaming capabilities customized to each user's products and processes.