Media Coverage

Automation of Pump Manufacturing
Featured in The Chugoku Shimbun newspaper (Hiroshima area) issued on Thursday, Jul. 23, 2015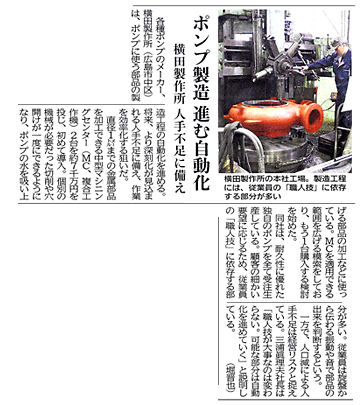 The Chugoku Shimbun





Automation of Pump Manufacturing
Yokota Manufacturing Co., Ltd. prepares for possible labor shortages

Yokota Manufacturing Co., Ltd. (Naka-ku, Hiroshima City), a manufacturer of a wide variety of pumps, is advancing automation of the manufacturing process of the parts used on pumps.
The aim is to streamline the process in preparation for the increasing possibility of labor shortages in the future.

The company has spent about seventy million yen to purchase two medium sized machining centers (compound machine tool known as MC) for the first time which can process metal parts of up to 1 meter in diameter. The machining centers make it possible to cut and drill simultaneously, which previously required separate machines, so the company is now using the machining centers to process parts for pumping water. The company is further trying to expand the applicable range of the machining centers, and they are currently considering the purchase of an additional machine.

The company produces all their original, high-durability pumps by order, and to meet the particular requirements of customers, the manufacturing process relies heavily on the craftsmanship of their engineers. They say that their engineers can determine the quality of the parts based on the vibration and sound they produce while on a lathe.

Meanwhile, the company regards possible labor shortages due to the reduction in the population as a business risk. The president Mario Miura noted, "The importance of the human craftsmanship never diminishes, however, we will advance automation wherever possible". (Article by Shinya Hori)

<Photo>
Yokota headquarters plant
Manufacturing process relies heavily on craftsmanship of engineers.





For details of this product, please refer to
 Defoaming, Degassing Pump ASP, DP type
 Self-Priming Centrifugal Pump UHN series
 Non-Water Hammer Check Valve SL series
For details of defoaming, Degassing related products, please refer to "Current Topics: Defoaming, Degassing".
For details of power plant related products, please refer to "Current Topics: Slurry Self-Priming".
For details of Seawater Intake related products, please refer to "Current Topics: Seawater Intake".