Media Coverage

Refining Technical Strengths - More than 100 Patents
Featured in The Chugoku Shimbun newspaper (Hiroshima area) issued on Wednesday, Sep. 30, 2020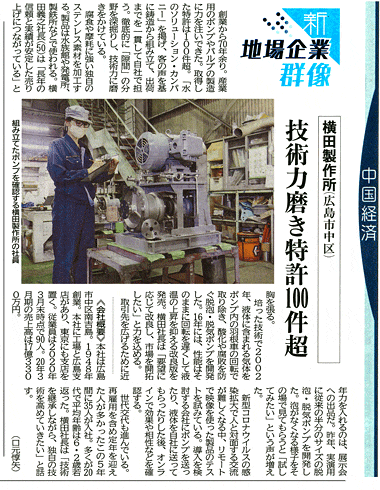 The Chugoku Shimbun




"Image of new regional business cluster"

Yokota Manufacturing Co., Ltd. (Naka-ku, Hiroshima City)
Refining Technical Strengths - More than 100 Patents

Over the more than 70 years since it was founded, Yokota Manufacturing has focused its strength on manufacturing of industrial pumps and valves. The number of patents acquired by the company is more than 100. Proclaiming itself to be a "Water Solutions Company", it is responsible for integrated production that covers all steps from casting to assembly and shipping based on customer input. It is dedicated to digging deep into "niche" fields and improving its technical capabilities.

The company works with its own original type of stainless steel that is resistant to corrosion and wear. Its products are used in a wide range of facilities including aquariums, power plants, and steel works. President Yoshiyuki Yokota (50) states proudly, "Our many years of trust and successful results have delivered stable profits for our company".

Using the technologies it had cultivated, in 2002 the company developed a defoaming and degassing pump which prevents oxidation and corrosion by using the rotation of impeller inside the pump to remove gas trapped in a fluid. In 2016, it released an improved version which maintained the same performance but operated at a slower speed to reduce the rise in fluid temperature. President Yokota declared his intention to "make improvements based on customer requests and further open up the market".

In order to expand its list of customers, in recent years the company has focused on exhibiting at exhibitions. Last year, it developed for demonstrations a defoaming and degassing pump that was half the size of previous pumps. Visitors to the events could see for themselves how the bubbles in the fluid disappeared, with many saying they wanted to try it themselves.

As the coronavirus pandemic has made face-to-face interactions difficult, the company has tried conducting product tests remotely using video. It also sends pumps to companies that are considering using them, and receives fluids shipped from potential customers in order to perform online checks of the effects and compatibility.

A generational handover is also underway. During the past five years, many employees reached retirement age, including some who were hired for reemployment. During this period, the company hired 35 new employees, most of whom are in their 20s, bringing the average age at the company down by 6.2 years. President Yokota said of this, "We want to ensure that our technologies are handed down while also raising the level of our original technologies". (Article by Junya Kuchimoto)

<Photo>
Yokota Manufacturing employee checking an assembled pump

<Company profile>
Founded in 1948, the company is headquartered in Minami Yoshijima, Naka-ku, Hiroshima City. The headquarters is the site of a plant as well as the company's Hiroshima Branch. A branch has also been established in Tokyo. As of March 2020, the number of employees was 90, and sales for the fiscal year ended March 31, 2020 were 1.733 billion yen.



For details of this product, please refer to Defoaming, Degassing Pump DP, ASP type.
Equipment suitable for defoaming relatively large amounts of liquid is also available.
For details, please refer to Defoaming Pump UPSA type.
This defoaming and degassing technology has been introduced also in many other media.
Please refer to "Current Topics: Defoaming, Degassing".